Contact Us
|
English
Stabilized Soil Mixing Plant
Product Features

+ Extra-long mixing shaft, more even and efficient mixing.

+ Patented technology, precise measuring.

+ Ergonomics design, convenient operation.


As the professional manufacturer of stabilized soil mixing plant, Fang Yuan adopts the latest technology in the world, and has provided stabilized soil mixing solutions of excellent performance for many important projects at both home and abroad and win customers' confidence, such as the Capital Airport, Shenyang-Dalian Expressway, Hang-Jin-Qu Expressway, Daqing-Guangzhou Expressway, Shaanxi Yujing Expressway (the first desert expressway in China), Xiamen-Shenzhen Highspeed Rail, Algeria East-West Expressway, etc.

WBZ series of stabilized soil mixing plant adopts double horizontal axis successive type working machine with no liner plate, which features balanced mixing, high productivity, and convenient maintenance; patented batching technology, accurate and reliable measuring; computer controlled full process, convenient operation, and high reliability; and the advanced speed regulation via frequency control features energy-saving and consumption reduction.
1. Mixing system: first product in China, good mixing performance and higher efficiency.
2. Adopt electric lubrication pump, and the axle end seal adopts Germany technology, featuring long service life.
3. The powder measuring system adopts patented technology, featuring accurate measurement.
4. The water supply system adopts intelligent electromagnetic flow meter and frequency controlled speed regulating technology, featuring ergonomic design and high automation level.
5. The main electric parts all adopt products of international brands, which runs safely and stably.
6. Driven by electric drum, it is applicable to tough work conditions.
7. The endless belts all adopt products of sole proprietorship brand, which have reliable quality and long service life.
8. It adopts modular assembly structure and multiple assembly mode which is convenient for allocation, disassembly and transport.

Technical Support

Fang Yuan Group has set up the technology ceter of provincial level.

Service & Maintenance

We will provide you warm and thoughtful services.

Video News

Fangyuan Group is making efforts to expand the operation fields and explore global market.
Stabilized Soil Mixing Plant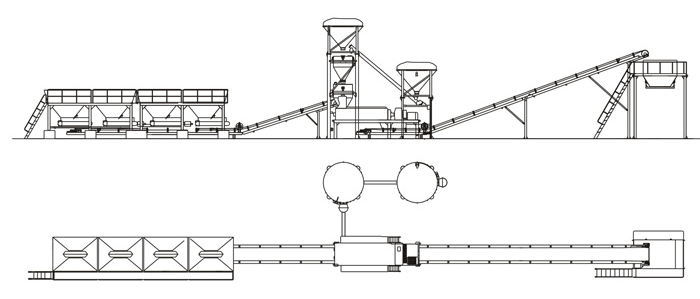 Model
WBZ300
WBZ400
WBZ500
WBZ600
Productivity
t/h
300
400
500
600
Power
kW
98
108
136
151
Dimension L×W
m
45.3×14
45.3×14
48.6×14
48.6×14
Measuring method
Computer metering
Speed regulation
m
Frequency control
Control method
Manual/automatic
Max. diam. of aggregate
mm
60
Measuring accuracy
Aggregate
%
±2
Powder
%
±1
Water
%
±1
The above parameters are subject to change, please refer to the actual product.